Central Monitoring Station UNET-S allows creating the most effective configuration of monitor information network using wire (Ethernet) and wireless (WiFi) data transfer technology meeting the requirements of each clinic.
Central Monitoring Station UNET-S can be integrated into existing hospital information network and exchange data with bedside monitors using common channels of the local network. That kind of centralized monitoring network structure allows adding information on the current patients monitoring into the Healthcare Information System (HIS), as well as having an access to HIS databases from the central station. 
Central Monitoring Station UNET-S enables combining current information received from UM 300-S patient monitors located in operating rooms and intensive care units, and centralized monitoring vital signs of all the patients under monitoring.
Central Monitoring System is designed to provide centralized vital information monitoring from multiple monitors and/or telemetry transmitter.
UNET-S Central Station is a powerful computer with one or two color displays with a sound alarm system and printer.
Central Station UNET-S provides:
Comprehensive review
Remote control access
Reception, analysis and documentation of real-time information
Continuous monitoring of basic parameters of patient's condition
Patients databases maintenance
Data exchange within a local hospital or the global information network
Continuous data safety on the patient's status during the patient's stay coming from UM 300-S bedside monitors.
Central Station UNET-S enables bed-to-bed viewing of alarms, waveforms, numerical values and trends between network monitors.
It performs the following functions:
Real-time patients information input received from bedside UM 300-S patient monitors
Up to 32 monitors in one network
Simultaneous visualization of information received from up to 16 monitors on the system display
Information distribution to system displays is carried out in the following way: one block of information is given on the first display and another block — on the second, or information from one monitor is given on the first display and the rest of information - on the second
Real-time visualization of all parameters (depending on monitor configuration) received from UM 300-S and waveforms – not less than 2 waveforms for one monitor during joint observation and up to 9 waveforms for one selected monitor
Details of each monitor are displayed in a separate independent window
Scale of the curves is independent from the number of connected monitors (no change)
Output up to 2 waves for each patient, while monitoring 16 patients (4 waves — for 8 patients, 8 waves — for 4 patients in real time)
Ability to view extended information on each monitor (all ECG leads, trends and parameters of HRV)
Displays the short trend — up to 4 parameters in the last 10 minutes
Freezing of displayed waveforms for selected monitor
Remote control of each monitor (introductions and changes in mode parameters, changing levels of alarms and their priorities, pressure etc.)
Maintenance of current and archive database (patient data are kept after their discharge)
Record of user chosen information into database – 20s of ECG interval and 72h of trends
Automatic recognition of arrhythmia events and its types (with automatic saving of 20s ECG intervals in database)
Continuous record (up to 72h) of 9 waveforms for each monitor into database
Automatic recognition and visualization of ST-segment deviation
Detailed ECG analysis and HRV assessment
Automatic registration, displaying and database maintenance of events and alarms (not less than 1000 for each monitor)
Entering, editing and saving patient identification data
Three-level alarm system individually for each patient with the priorities for each parameter
Built-in calculator for potion input and speed of infusion therapy.
High profile patient monitoring — another monitoring just does not make any sense.
It is well known that monitoring of the patient's vital signs at all stages of hospital treatment in acute situations is extremely important nowadays.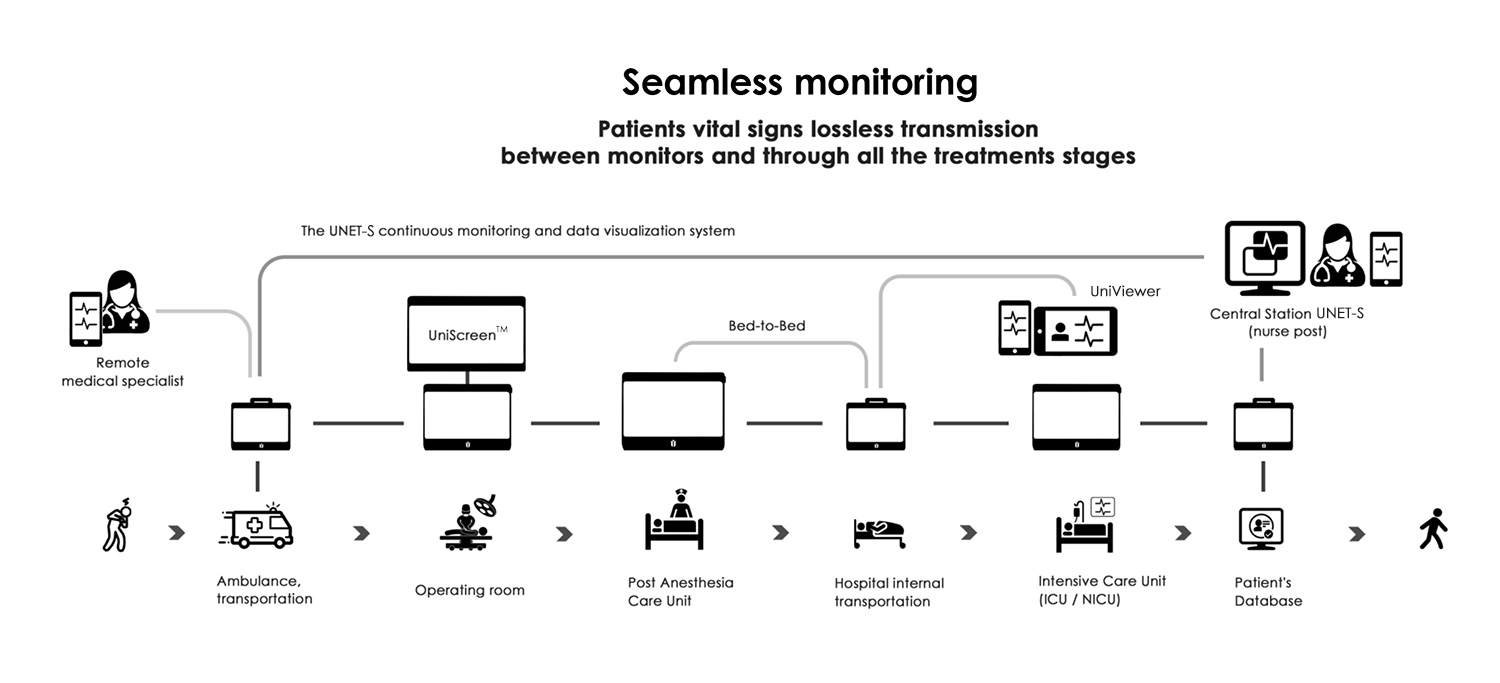 Monitoring is required for patient transporting from accident site to the hospital for providing first-line care, for hospital emergency departments (Emergency Department (ED), Emergency Room (ER)), Preoperative Area, Operating room (OR), Postoperative Unit (PACU), Intensive Care Unit (ICU, CCU), for patient reallocation between care units within the hospital.
  At each of these stages a different set of monitored parameters is required, ensuring necessary level of monitoring the situation. Each specific clinical situation dictates specific requirements for the dimensions of devices, their weight, method of visualization, period of autonomous work. Besides at all stages of treatment patient monitoring information must be stored, continuous for all patient reallocations between care units and available for remote viewing both in real time and historic perspective.
  UTAS UniViewer patient continuous universal monitoring solution suggests complete and flexible solution of monitoring tasks at all stages of patient management, both in the acute phase of treatment and during recovery.
  Hospital monitoring system is constructed directly by the user in a clinical department depending on the required scope of monitoring by selecting one or combining several devices:  
Full-sized flat-panel patient monitor UM 300-S (display 10", 15 " or 20"), with touch screen, embedded basic parameters (ECG, SpO2, NIBP, Temp, HR, RR), and a set of UniPort™ universal ports to connect expanded functions modules (modules-in-cable)
Expanded functions modules — a set of measurement modules (module-in- cable) providing monitoring of invasive pressure (IBP), capnometry (CO2), gas mixture composition during inhalation anesthesia (AAg), the depth of anesthesia (BIS™), measurement of cardiac output (thermodilution), minimally invasive and noninvasive (ICG) hemodynamic monitoring, monitoring of respiratory mechanics parameters, the degree of muscle relaxation and other specialized modules
Central Monitoring Station is designed for centralized monitoring of vital patient information received from several monitors, patient database creation.
Simultaneous use of all system elements allows receiving patients information in the right place, at the right time and in the right volume.
  Information received by Central Station UNET-S is accumulated in patient database and can be transmitted both to any network monitor and other Central Station.  
Continuous access to the patient database is provided by:
Bed-to-Bed Viewer — review of monitored parameters from one UM series patient network monitor on any other network monitor
UniViewer — remote access to the monitored patient parameters from any network monitor in real time mode or in trends.
Using UniViewer the monitored patient information is continuous and stored in a single database and doctors can quickly assess the patient status even in remote mode.
Remote access to patient's data in trends or real-time mode, while you are away from the bedside.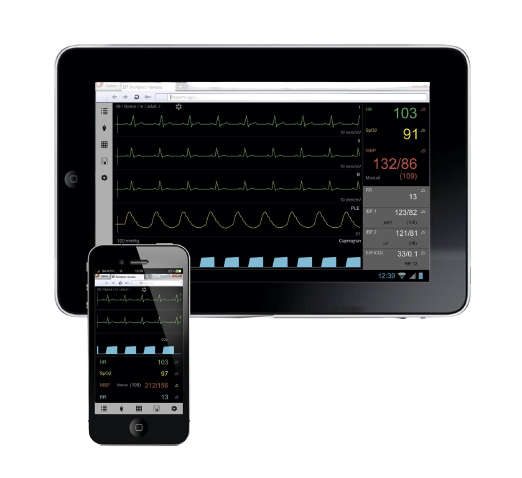 Clinicians can quickly check patient's status directly from a standard PC, Mac or tablet PC, a wireless, pocket-sized Personal Digital Assistant (PDA) or smartphone.
With the UniViewer you can quickly check the status of your patients directly from your PC without making a trip to the bedside or even to the hospital.
UniViewer is capable of displaying real time patient monitoring data such as waveforms, alarms and numeric including printing facilities. UniViewer can use any type of technology; wire, wireless, mobile.
UniViewer software adds web-enabling capability to the UNET-S Central Monitoring Station. Now, physicians can quickly and easily access current vital patient data from remote locations or anywhere that has internet access.
UniViewer allows physicians to remotely interact with on-site clinical staff, reducing delays in diagnosing patients, saving time and increasing productivity.
Features:
Multi-patient view capability — view real-time streaming waveforms for any patient on the network by central station
Access patient data from any Central Station on your network using browser
Auto adjust according to screen size
User authorization
Configure administrative privileges, controls and functions
User Management function allows administrator to add, define and manage users
Event List
Graphic Trends.